STAINLESS STEEL MUFFLERS
---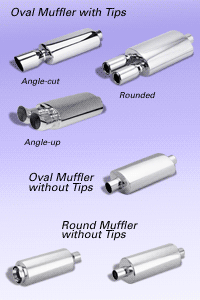 Spruce up the look of your vehicle with these Stainless Steel mufflers!

The mufflers shown are just a sample of what we can get

There are many options, and some styles my be different, for Example:
The "Angle-up" also features a single rectangular port, instead of the duals shown.

If you want to order one for self installation, we need the O.D. of your exhaust pipe!

These mufflers can not be welded to the exhaust system, they must be clamped.

We can also get the Stainless tips; Call for availability and pricing on any of these items, or make an appointment for installation!.