Vortex Duel Exhaust Kits for Pickups
V6 / V8 & V10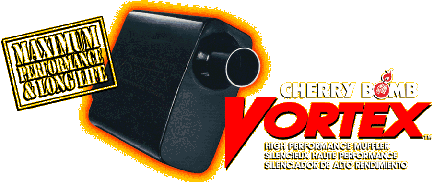 Vortex performance mufflers
Smooth, mellow performance sound.
Split-flow design maximizes horsepower.
Corrosion resistant, all-welded 100% aluminized steel.
High-temperature powder coated black finish.
Vortex mandrel-bend pipes
Smooth mandrel bends maintain constant inside diameter.
Increased flow and horsepower compared to O.E. serrated-bend pipes.
100% aluminized tubing for long-lasting performance.
Direct fit with O.E. style welded hangers and flanges for easy installation.
Sweet Sounding Exhaust with either 2-1/4",
2-1/2" or 3" aluminized tubing.
Cherry Bomb Vortex, building on a tradition
of high performance mufflers.
---
We've done over 87 Pickups in 2000!
---

We specialize Specialize in Dodge, Ford, and GM 4x4 & 4x2 Pickups!
Most SUV systems must be installed in shop!

Call for kit information and pricing, and you must mention code SSE1701

Our Vortex kit contains a high-flow muffler that's rated better than any Flow Master!

(412)462-4544, Ask for Allan Rubin (owner).

If you live within a 30-mile radius of our shop, we can install it for you (Labor extra).

---


1. Engine exhaust enters muffler.
2. Unique Flow Divider design splits exhaust into two streams without reducing flow.
3. Higher frequency sound waves dissipate into stainless steel wool and fiberglass.
4. Center of Flow Divider (the "vortex") provides further sound reduction.
5. Second Flow Divider splits the exhaust into two streams.
6. The two exhaust streams merge exit the muffler. The result is a smooth, mellow performance sound.